Thursday is coming...
Two days to go until game-day. That is...
You know it.
We can't afford to fall into fifth place or even further below .500 or to lose a game in the standings. We have the ability and the team to make a good run in the playoffs. We just need to remind ourselves of that.
Open your miiiiiiiind...
Dutch has the power. Witness her 31 points. Thorn has the power. Witness her three-point magic. Thor has the power. Witness her magical hammer, with which she smites her enemies. Marvel? The Beatle? The Middle-Man? The Hebrew Hammer? Marlowe? Are any of these nicknames striking you guys? Or am I going to have to think up new ones.
Don't make promises you can't keep.
Everything goes into mental preparation. A win against the Sun is huge. We need to come up big and show people that we're still a contender, not the least of which being the actual team that is right ahead of us in the standings.
You bastards... say your prayers and eat your vitamins!
We just got to stick together and make it happen. Any Libs fans out there able to travel the four hours to Uncasville? Do it. I can't, because of work, but you all should! I know some of you have money and little to do! We live in New York!
Home to the Rich and Vapid!
Keep it real.
AROUND THE LEAGUE...

Storm @ Mystics
Silver Stars @ Fever
Shock @ Sun (8, on ESPN2)
Sparks @ Monarchs (10, on ESPN2)
The Storm can't seem to decide what team they want to be. Are they the team full of All-Stars that can beat the dregs and regs alike? Or are they the team that, despite their loads of talent, takes a belly-flop onto concrete when the going gets tough? We'll see tonight, as the Mystics (7-3 in their last ten) try to prove that they are not out of the picture just yet... especially with Chicago still in the hunt.
Mystics by 5.
I understand that ESPN makes up the schedule at the beginning of the season, but really, couldn't we TRY and get the Indiana/San Antonio game on cable? This is going to be a rumble between the two of the biggest kids in the schoolyard as the Catchings-less Fever try to prove that they are more than just a super-star in team-clothing. The Silver Stars have faltered a bit as well, dropping a game to the Sky, and need to reassure all five of their fans that they're not just a streaky team with an attitude.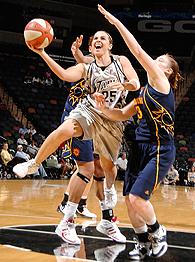 We believe in you, Hammon!
Silver Stars by 7.
The Shock have lost some Kilowatt hours since their incredible start, but have regained their station at the top of the East and are cruising around chum-filled waters, itching for a frenzy.
That wasn't that good. I'm sorry.
The Sun, meanwhile, have gone from completely out of the playoff-picture to a strong dark-horse candidate to finish second in the East, if their luck holds out. The Shock and the Sun have each won 6 straight, but while the Shock have done it against much lower-seeded opponents (two from Chicago!), the Sun have done it by beating teams that had much better records than they (save for a win against the now on-and-off Comets). Expect a brawl as Li'l Mac meets up with Mike Tyson for the Dream Bout.
Yeah. I went there.
Sun by 6.
L.A. and Sacramento? A good ol' fashioned rivalry!
Well slap my ass and call me Charlie!
Pass the dip and settle yourself in for a game that is going to be marked by low-scoring, missed shots, zero-pressure, and a marked sense of desperation coming from the L.A. bench. Somebody needs to wake up on that team, get over Holdsclaw retiring, and slap the Monarchs around. They're not at the top anymore, and their defense-first approach is beginning to crack at the foundation. Can they do it? I hope so, but I think not.
Monarchs by 4.
WNBA Power Rankings are up
, and they ain't pretty. New York drops to 9 (from 7), which is what will happen when you lose four straight, with the Sky bumping ahead.
SCREW YOU, CHICAGO!
As most of you probably know,
Tamika Catchings is out for 2-3 weeks with a foot injury
. The Writer wishes her all of the best.
Just don't come back TOO soon.
Lindsay Whalen (CON) and Lauren Jackson (SEA) were named
players of the week
for the respective conferences. Strong play from both, especially Jackson, who's game has reached such a level that an investigation has been opened into the possibility of her omnipotence.
"No. No. I am not a God. Excuse me, there's a fire in Botswana I need to attend to."
Some more stuff about the ESPN/WNBA deal
, and some more assurances that all teams will share equally and the CBA isn't a problem.
What ARE you smoking, Donna?... and can I buy some?
That's it for the day, you sotten lay-abouts. Nickname up in the afternoon. Until then...
See ya, Space Cowboy...