Got that right.
Detroit 87, New York 82
So, there we are. A loss to Detroit in another nail-biter. That drops us down to .500 (10-10) and increases distance in the race for the Eastern Conference. Since the Liberty's belly-flop after their 5-0 opening (making them 5-10 in the time that has passed), I have come to accept the fact that the Libs would most likely not make it to the top of the Conference. Still, there was some hope left somewhere.
Snuff!
I'm not saying that all hope is lost. Just that it's going to be all uphill from here if we want to maintain home-field advantage throughout the playoffs. Cuz right now we're only a half game ahead of Connecticut and six games out of first. Yuck. I can't even find it in me to post a picture and a joke...
The Libs started off strong, going 17-14 over Detroit in the first quarter and 39-33 at the half. This was a team effort, as recorded by the end of the game. Four Liberty starters scored more than eleven points, with another double-digit scorer coming from the bench. New York was doing everything right - shots were hitting, the defense was decent - and with Detroit semi-imploding (8 turnovers in the first quarter alone), for once, it seemed like New York could take a win to the bank.
I'd like to deposit this, please. Wait... where's my credit card?
Unfortunately for us, but fortunately for the fourteen thousand Shock fans in attendance, the Liberty let their guard down. What started off as a poor run at the beginning of the third quarter led to a dismal second half. Not horrible in the way they were playing, but bad in that they let the Shock back in the game. They had Cheryl Ford and her crew tied by the nose to the stickin' post, and they forgot to loop the knot.
That's my Kansas Grandfather coming through again.
The two teams essentially switched places. The Shock, after showing offensive promise in the first half but not taking care of business, swung a complete 180 and started hitting all of their shots. It seemed like basket after basket after basket. And while the Liberty did their best to score back, they're hearts seemed to have been left in the lockerroom. New York managed one brief spurt of "le coeur" to put it into overtime, thanks almost entirely to Christon...
Don't mention it.
But it wasn't even close anymore. Thorn pulled a nice lay-up, and then the Shock hammered the last nail home, going on an 11 point run. Dutch missed two huge shots, Moore fouled out, and no one could seem to hang onto the ball long enough to get it into a good position.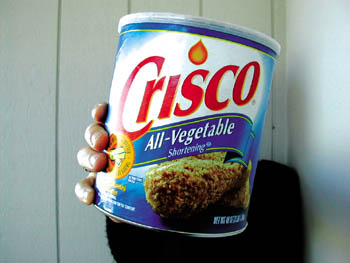 MVP of today's game: Crisco.
It was essentially back and forth after that. The Libs never truly threatened the lead in overtime and the Shock never went out of their way to try and give it to them. The clock wound down, and Motown went nuts. And that's the way it was.Overall, I'm dissapointed. We had this team, had 'em by the (metaphorical) balls. All we had to do was shut the door, and we couldn't. Biggest dissapointment? Marlowe.Moore couldn't bury it. 9 shots, one hit. Three points, 6 fouls, 2 turnovers, and a whopping three assists. Whoa. On the complete opposite end was Ms. Marvel, who led the team (along with Beatle) with 17 points. She was 8-11 in shots with 9 rebounds. Any reason why she didn't really get a shot until this late in the season, Patty?
Very well. Thorn also had a nice game (13 points, 7 assists) as did Dutch (11 points), but both had some momentary lapses on defense that could have prevented a basket and/or stopped the Shock in their tracks. That's that, I guess. The Libs couldn't control their zone, took stupid fouls, and in the end, were just outplayed. Thankfully, we have 14 games left in the season. Those are gonna go a lot quicker than you think...
GAME NOTES
Over 14K at the game. Maybe we should hold ALL games at noon...
The Liberty led in almost every category (rebounds, shooting %, . Unfortunately, the only one that matters at the end of the day is points.
Four Shock players played for longer than 37 minutes. Only one Lib did such.
Cheryl Ford had 18 rebounds. Is that humanly possible? Is she Mister Fantastic? Do her arms stretch as far as they need to go? Were the Liberty even NEAR here when the ball went in the air?
Deanna Nolan led the Shock with 21 points. Dammit. Just writing it makes me upset.
Until tomorrow, then...
See ya, Space Cowboy...