Tuesday is Nickname Day!

Pat Coyle

Nickname: Saint Patty
Coaches tend to be hard. I'm going with something easy, as there are so many other titles that I can give her (Skipper, Skippy, Coyle, Coach, Yes Ma'am)

What I learned today about Basketball...
That's just two points, man.
Three Pointers are way more exciting than dunking for me, at least. Heck, they're the reason the Libs won on Sunday.

Interesting to note, but the Liberty's official site didn't have the full box-score up until late Monday Night. Way to be on the ball, guys. Not that I can talk. I don't even include the box. Or get the players right. Or the right next game...

Yet.
Around the League…
Understatement of the Century Finalist...
"I thought we played very well in the first (half) and not so well in the second."

Chicago Sky coach
Bo Overton
after his team jumped out to a 42-33 lead at halftime before faltering in the second half and losing by 12, to the Associated Press.
A master of rhetoric and hyperbole, that Overton.
Minnesota @ Detroit
Sacramento @ Washington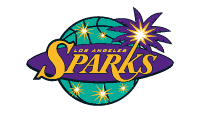 Los Angeles @ Chicago

Picks…
The Shock at home against one of the worst teams with one of the worst away records. Shock by 10.

The Monarchs show their strength and are back on track. Monarchs by 6 ½.

Is Chicago all that bad? I posit that it is so. Sparks by 12.

Tune in tomorrow to see some crow-eating.
Finally, we have the "
Power Rankings
" at the WNBA's site. I'll spare you the trouble. Look below for the Liberty's ranking...
Ranked 11 (out of 13)
New York
(Last week at 12)
1-0
Much like the Storm, the Liberty looked awful in the first half Sunday against Chicago. But they put it together in the second half behind seven 3's and 28 points from Erin Thorn to post a very solid season opening win. The playoffs are still a ways off for the Liberty, but as Loree Moore and Shameka Christon learn to take charge on the court and young posts Jessica Davenport and Tiffany Jackson get up to speed, there's plenty of room for improvement in the Big Apple.
Upcoming: vs. Washington
(Speaking of Washington, THAT is the next game, not Minnesota. My bad. This blogging is harder than I thought...)
I would question the validity of Power Rankings when all but two teams only have one game under their belt, but that's just me. In any case, I find it odd that, despite the quality of play in the first half on Sunday, the Liberty is ranked below San Antonio (0-1, ranked 9), which, with games coming up against the Sun and Storm, could very easily be 0-3 next week.
See ya, Space Cowboy...