Martina Weber
Height: 6'5''
Position: Forward
Birthplace: Trier, Germany
College: Iona
Descended from Venus:...
You decide.
So, it had to happen sometime. Weber was just begging to become a Belle, what with her long legs, and German accent, and... and... excuse me for a second.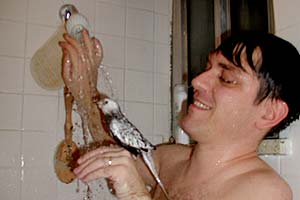 Much better. Eh, Petey?
She's got the moves, the skills, and the rock-em-sock-em attitude that comes from being born in Germany. Unfortunately, she hasn't had a chance to show off those said skills just yet, much less pay the bills with them.
Tragic, really.
Just look at her playing days in Iona. MAAC Player of the Year? Averaged 15.8 points and 7 rebounds per game? Team's leading scorer in multiple years? Is there anything she CAN'T do?
She can't defeat the Grimace, but then again, who can?
Martina Weber was drafted in the third round (29th overall) this year and is just itching to get out there and tear up some court. It must suck going from being the number one star at Iona to being the fifth string reserve place-kicker holder. Still, if it's any consolation, she's the first Lib in my heart.
It'd be sweet if it weren't a bit freaky...
Making matters worse for your favorite Liberty Blogger is the fact that there's ANOTHER German Martina Weber, but one who is a knitter instead of a basketball player. Meaning any internet searches invariably turn up quilt-making and such. As of right now, that's about all I have on her aside from her romp around New York with Janel McCarville. If anybody has any more info or pictures of Weber in action, please send them this way. I promise to put it all only to ethically and morally sound uses. Weber would expect no less.
Besides, her omnipotence scares me into servility.
A hearty German "HOI!" to the one and only Weber. Cheers!